Pier Museum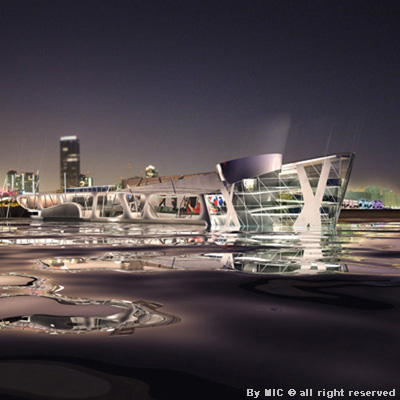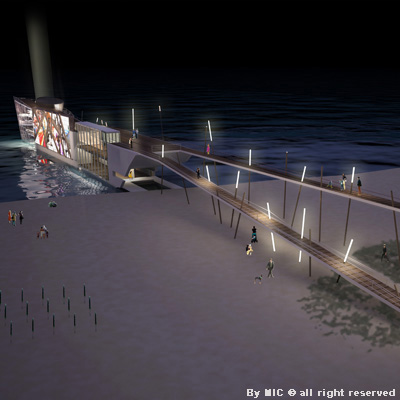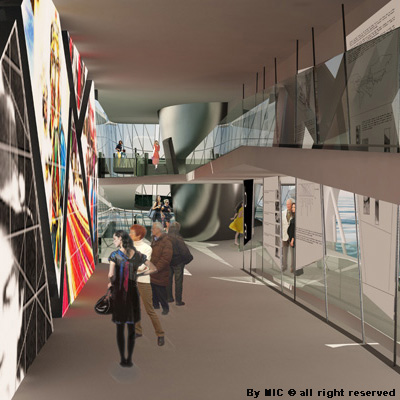 Year: 2009
Location: Miami, USA
Status: COMPETITION

PIER MUSEUM
Client: City of Miami
Object: Project of an Immigration Museum
Laboratory facilities, Sustainability and Landscape:
- Exhibition of marine biology
- Laboratory of the Sea
- Multipurpose facility and services
Mission realized: Preliminary project
Professional role:
Sustainable architectural and structural project: Arch. Maria Irene Cardillo
Team project: Studio Architettura MICardillo
Il progetto per questo concorso, sito alla fine della Fifth Avenue, nella zona di Miami Beach, è un "Museo-Molo" che, sul mare, rappresenterà un "monumento orizzontale" all'immigrazione.
Il "pier museum" offrirà spazi commemorativi in un'area di circa 2000 mq.Il progetto si sviluppa come una rampa continua che dalla spiaggia, distribuisce nell'edificio tutti gli spazi in soluzione continua. Il prospetto sud, direzione del flusso migratorio del centro-america, viene caratterizzato dai percorsi della rampa distributiva, leggibile attraverso la trasparenza delle vetrate e da una prua come faro, prua luminosa verso il mare. Il prospetto nord accoglie una facciata multimediale che comunica all'esterno le tematiche del museo.
The design for this contest, located off Fifth Avenue in the area of Miami Beach, is a "Wharf Museum" which, on the sea, will be an "horizontal monument for immigration".
The "pier museum" will offer commemorative spaces in an area of about 2000 mq. The project develops as a continuous ramp from the beach, distributes all the spaces in the building solution continuously. The south elevation, direction of immigration from Central America, is characterized by the flight paths of distribution, readable through the transparency of windows, and a bow as a beacon, bright bow to the sea. The north elevation accommodates a media facade that communicates the issues outside of the museum.